Office 365 is now Microsoft 365: What it means for your business
Over the last few years, Microsoft has made their Office productivity applications into the cloud-powered gold standard for businesses. With the cloud-powered enhancements around cyber-security, online collaboration through the Microsoft Teams app (very important in work from home scenarios), and artificial intelligence, Microsoft Office 365 grew well beyond just Word, Excel, and PowerPoint. That's why Microsoft recently decided that "Office 365" should more appropriately be called "Microsoft 365" from now on.
However, some Amaxra prospects and customers have privately reached out to us asking if their subscription plans were changing after the Microsoft rebranding. The good news is that after the name change, all the Microsoft Office apps you know—and can't imagine doing business without—will still be there.
Comparing the old Office 365 to the new Microsoft 365 Business plans
The new product names went into effect on April 21, 2020. In most cases, changing the name from "Office 365 Business" to "Microsoft 365 Business" affects the product name only:
| | | |
| --- | --- | --- |
| Old "Office 365" Name | | New "Microsoft 365" Name |
| Office 365 Business Essentials | = | Microsoft 365 Business Basic |
| Office 365 Business Premium | = | Microsoft 365 Business Standard |
| Office 365 Business | = | Microsoft 365 Business for Business |
| Office 365 ProPlus | = | Microsoft 365 Business for Enterprise |
For all of the aforementioned "Office 365" plans, no features are lost. Everything you had in your Office 365 Business plans stays the same. Your apps such as Microsoft Excel, Outlook, PowerPoint, and Word are not going away and they still have all of the powerful cloud-based enhancement that will keep being added on a regular basis. It is literally just a name change to reflect the updated "Microsoft 365" branding for your plan.
One name change of note is the current "Microsoft 365 Business" solution being renamed to "Microsoft 365 Business Premium." The change was required because the Microsoft 365 Business solution bundled the Microsoft Windows 10 Pro operating system, Office 365 productivity apps, and cyber-security features served from Microsoft's global cloud infrastructure into a single subscription price. Going forward, the Microsoft 365 Business Premium solution will be the only "Microsoft 365 Business" subscription plan allowing users to install Windows 10 Pro on their PCs. A visual representation of what's available in each plan is shown in the following table: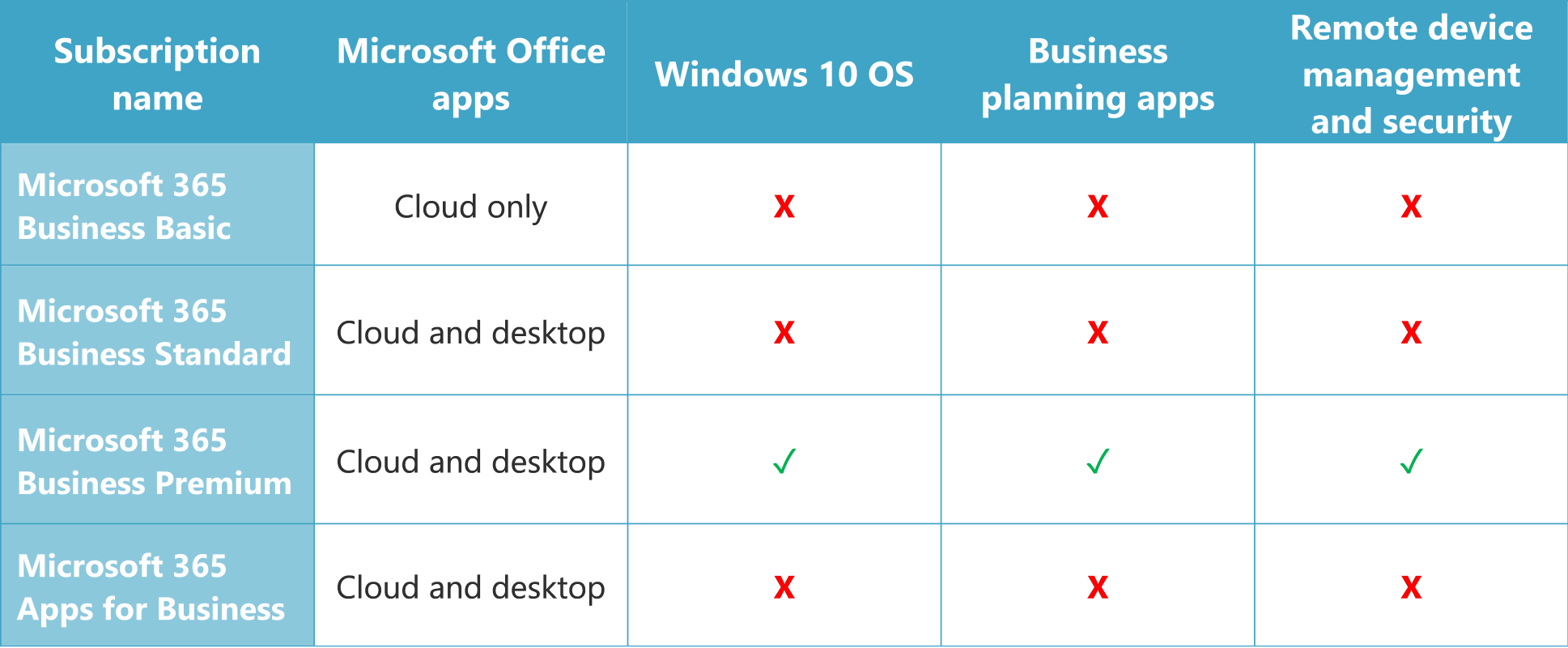 So, if you currently have an Office 365 Business, Office 365 Business Essentials, Office 365 Business Premium, or Microsoft 365 Business plan, you do not need to take additional action. The above changes will happen automatically.
A new cyber-security enhancement for Microsoft 365 Business Premium
The renamed Microsoft 365 Business Premium does have a free enhancement that will help small and mid-sized businesses transition to secure remote work: a full Azure Active Directory (AD) Premium P1 license.
Prior to the April 21 rename, Microsoft 365 Business had just a small subset of Azure AD Premium capabilities. While those included must-have security features such as conditional access, self-service password reset, and Multi-Factor Authentication, it was the minimum needed for a business to take full advantage of the cloud. With the addition of the full Azure AD Premium P1 license, organizations with Microsoft 365 Business Premium will get new cyber-security and productivity benefits such as:
Cloud app discovery – Enables you to discover and catalog all cloud applications that are used on employees' devices. This feature will tell you if your employees are connecting to the corporate network with devices running so-called "shadow IT" apps that your IT department does not authorize for corporate use (e.g. an unauthorized insecure Zoom meetings apps rather than the authorized and secure Microsoft Teams). Shadow IT discovery from this new feature provides crucial visibility into the potential cyber-security risk to your organization
Application Proxy – Not every business app is in the cloud (yet). But rather than forcing remote workers to use expensive VPNs to access business-critical apps running on an on-prem server, Microsoft Application Proxy uses your corporate Azure AD user identity data to instantly authorize access to apps without needing to install additional network infrastructure
Passwordless authentication – We've blogged about the cyber-security benefits of using Windows Hello For Business in the past, but it basically enables a strong, hardware protected multi-factor authentication (MFA) credential for single sign-on using biometrics or a simple PIN. The addition of the Azure AD Premium lowers the barrier of entry for SMBs to take full advantage of this exciting feature
Let Amaxra help your transition from Office 365 to Microsoft 365
Amaxra consultants are certified as Microsoft Gold-level Partners to design and deploy a Microsoft 365 solution optimized for your unique business. We are early adopters of Microsoft 365 with a decade of proven expertise on both cloud and cyber-security implementation.
Connect with us today to learn how a Microsoft 365 Business solution from Amaxra can help increase your productivity while enhancing your ability to serve your customers.