The simple way to choose if your business nee...
Every business owner is excited by the promise of digital transformation. The cloud, on-demand collaboration, distributed teams—these new technologies are greatly enhancing employee productivity. For many successful companies, Microsoft 365 is the unified toolbox to get things done. Combining the benefits of Office 365 applications, the Windows 10 operating system, and enterprise-grade cloud collaboration and cybersecurity into a single subscription service.
However, this single subscription service is not offered as a generic "one size fits all" product. Following the Microsoft 365 as a "toolbox" analogy, think about all the various tools that are available to carry out specific functions. Because tools come in multiple variations and sizes, there are multiple sizes of toolboxes that hold all those different types of tools. It's the same with Microsoft 365: There are multiple "sizes" to the subscription to meet various business needs and price points.
A wide array of choices can become overwhelming
If you're an entrepreneur considering a Microsoft 365 solution for your employees, then at a high level you're looking at choosing between either the Microsoft 365 Business or Microsoft 365 Enterprise subscription plan. While there is only one level of service offered in the Microsoft 365 Business plan, there are two different levels of service in the Microsoft 365 Enterprise plan called E3 and E5. For visual learners, the differences look like this: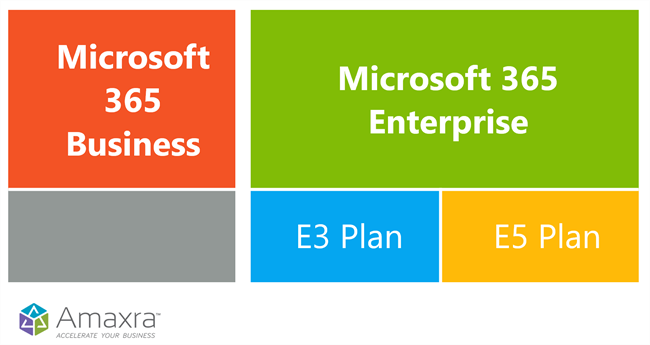 All these plans have one thing in common: they provide organizations with a bundle of industry-standard productivity and security solutions for a single monthly price. That provides companies with the benefit of a lower total cost of ownership (TCO) compared to buying Office 365, Windows 10 Professional licenses, and cybersecurity services separately for each of your employees. The bundling of multiple productivity apps and cloud-based economies of scale mean that whichever Microsoft 365 plan you choose will mean you pay a lower price than purchasing each item separately.
Going back to the toolbox analogy, it gets a little overwhelming is when you compare the "tools" in the Microsoft 365 Business, E3, and E5 plans. Prices increase going from the Business plan up to the E3 and the E5, but the number of available productivity and cybersecurity "tools" also increase in your toolbox. Sometimes it can get confusing when you search online for the differences between these Microsoft 365 plans and the results include Office 365 plans—that can throw off your price calculations. Just remember that Office 365 apps come standard with every Microsoft 365 plan; making it a good deal when you consider that in the pricing.
Amaxra has deployed both the Microsoft 365 for Business and Microsoft 365 for Enterprise plans for our clients. Our real-world experiences with Microsoft 365 give us insight into how each plan meets the specific demands of different organizations.
Microsoft 365 for Business plan features
The key takeaway you need to remember about Microsoft 365 Business: It's designed and priced for small to midsized business (SMB) owners with 300 or fewer employees. This subscription plan includes the following features:
Feature
Detail
Microsoft Office Applications

Full-featured offline desktop and online web versions of Microsoft Outlook, Excel, Word, PowerPoint and more that are tightly integrated with the secure Microsoft cloud
Cloud-powered native iOS and Android apps having near feature parity with desktop apps on all tablets and smartphones

File & document viewing & editing

1 TB of per user file storage and sharing. SharePoint Online and Microsoft Teams enabled document co-authoring

Collaboration services

50 GB of storage for Outlook email, calendar, and contacts
Microsoft Teams with voice calling, HD video chat/conferencing, instant messaging, and online collaboration workspaces

Business Applications

Outlook Customer Manager Bookings (appointment scheduler) Invoicing*
MileIQ* (mileage tracking and logging). Available only to customers in the US, UK, and Canada.

Device management

Single console to manage user and device settings across Windows, macOS, iOS, and Android hardware platforms
Upgrade devices from Windows 7, 8 or and 8.1 Pro to Windows 10 Pro for free
Self-service PC deployment of new devices on your corporate network with Windows AutoPilot, a service that automatically installs Windows 10 and Office 365 apps with security features and controls that are customized for your business

Security

Protect company data across all devices
Secure access to documents on mobile devices
Added cloud-based security for all Windows 10 devices

Maximum number of Users
These features are perfect for SMBs with little to no IT resources on staff but still want the productivity and collaboration capabilities of Office 365 combined with enterprise-grade device management and cybersecurity solutions.
You should choose the Microsoft 365 Business plan when:
You already own Microsoft Windows 7 or 8.1 PCs with that came with pre-2019 versions of Microsoft Office and want to consolidate your company on a single, secure standard
You want to simplify your IT operations by moving the administration and management to the cloud
You are interested in providing your employees with more remote working options while maintaining a proactive stance on cybersecurity protect data on both company and employee-owned devices
When to choose Microsoft 365 Enterprise
The Microsoft 365 Enterprise plans are for organizations with more than 300 employees, but employee numbers shouldn't be your only deciding factor. It's true the rule is that if you have more than 300 employees, then you must choose either the Microsoft 365 E3 or E5 plan. But there's no rule saying a company with fewer than 300 employees can't choose either the Microsoft 365 E3 or E5 plan—in some cases, it's more cost effective for SMBs to have the Enterprise solution.
One of the key reasons Amaxra has seen SMBs choose the Microsoft 365 E3 and E5 plans over the Microsoft 365 Business plan is Enterprise Mobility and Security (EMS). Previously available an add-on for Office 365, EMS is built into the Microsoft 365 E3 and E5 plans. The core technology behind EMS hardens employee account access to company data based on their role in your organization. EMS is valuable because it enables users to securely work from multiple devices and access shared cloud-based resources via identity-driven security that is easily administered across your organization via centralized policies.
Another reason some of Amaxra's SMB clients consider the Microsoft 365 Enterprise E5 plan is the inclusion of the cloud-based Phone System feature. For organizations with workers that spend a lot of time on voice calls to customers, the Phone System feature is a must have—essentially replacing your company's business phones while adding rich audio conferencing and online collaboration features to Microsoft Teams. Just like EMS, the Phone System feature was an add-on for certain Office 365 plans (and for Microsoft 365 for Business) but comes integrated with the Microsoft 365 Enterprise E5 plan. As previously mentioned, for some organizations discover it's more cost effective with lower TCO to buy the Microsoft 365 bundle with Phone System and EMS features built in rather than getting the "cheaper" plan then paying for add-ons.
Trust Amaxra to help you decide
On the fence about which Microsoft 365 plan is the best deal for your business? Download our comparison chart to help you quickly review the features and capabilities available across all Microsoft 365 plans. Or consult with one of our Microsoft 365 experts to learn the pros and cons of each plan for your organization.