Microsoft Viva - Beyond Employee Experience & Engagement
As any business leader will tell you, one of the main driving factors for a successful organization is its people. Investing in employees, including giving them the tools they need to do great work individually and through collaborative efforts, influences everything else that makes an organization successful⁠-profits, productivity, growth, and more. Building and maintaining a great company culture is essential, regardless of whether people are physically in a building with each other or not.
In the US alone, fully-remote work arrangements have tripled since 2019.
Hybrid work is expected to continue to increase as time goes on, with an estimated 55% of the US's estimated 70+ million remote-capable workforces engaging in a hybrid working model.
Some organizations have embraced fully-remote work environments. Others have seen success with a hybrid model, where employees work a mix of on-site and off-site.
With a positive company culture, workers are more engaged, more productive, and overall happier at work, which has cascading positive benefits that affect every aspect of the organization. But building or maintaining a positive culture in today's increasingly remote working world requires intentional focus-prioritizing connections between different teams, encouraging employees to talk with each other-and using technology to support those connections.
Your organization likely already uses a host of productivity and collaboration tools, like Microsoft Azure, Office 365, Teams, Dynamics, and more. These programs connect with each other to facilitate effective work from an organizational level and even offer some collaborative features for remote or hybrid work enablement. But nothing really ties all those collaborative elements together, and it's often difficult to justify adding yet another piece of software to an already overwhelming tech stack. So what can you do to support collaboration without giving employees another app they need to access and keep track of daily?
That's where Microsoft Viva comes in.
As a full suite of integrated applications, Viva works seamlessly with the Microsoft apps that your employees already use, like Outlook and Teams, by adding functionality right inside of them-meaning employees don't have to juggle multiple apps or windows to enjoy the enhanced communication experience that Viva provides.
This article explores how Microsoft Viva empowers individuals and teams to do their best work through connections by explaining the different applications within the Viva suite and then talking about pricing and licensing.
Let's get started.
What is Microsoft Viva?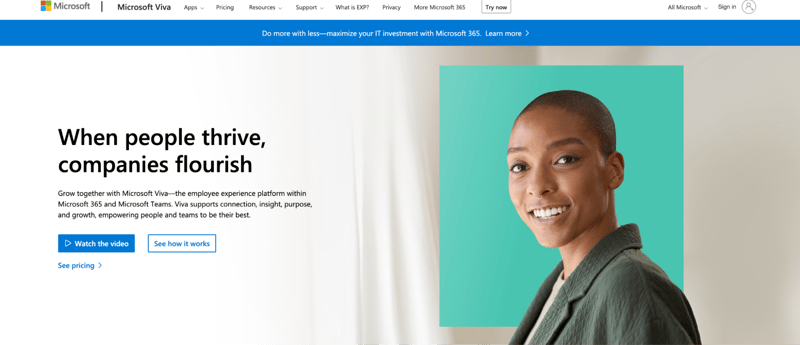 As a modern intranet and collaboration platform, Microsoft Viva integrates with the Microsoft programs and applications your organization already uses to help individuals and teams be more productive and efficient with their work while at the same time facilitating connections between employees. It does this by unifying the employee experience across connection, knowledge, purpose, and growth, giving employees more opportunities to be successful.
In other words, Viva takes collaboration features that we often see on social media platforms, crowdsourcing platforms, and Learning Management Systems (LMS) and incorporates these features into existing Microsoft applications. What results is enhanced functionality of these applications at little or no cost to the user, with the benefit of better communication without interrupting workflow. For example, employees can enhance the benefits of Microsoft Teams by using Viva Engage, accessing a full news feed of what's happening in the company without having to leave the Teams app.
Because users don't have to leave the Microsoft applications they typically have open all day every day anyway (such as Teams and Outlook), the additional communication functionality of the Viva suite of apps doesn't get in the way of regular work but instead enhances it.
Viva Microsoft Features
The Microsoft Viva suite focuses on every aspect of employee engagement and learning with the following applications:
1. Microsoft Viva Connections
Connections are similar to a company-wide social media network where employees can converse with each other, browse news, and otherwise have a bird's eye view of what's going on across the organization. In addition, leaders can utilize connections to deliver surveys and calls for feedback to gain insight on any topic they choose.
The following features are included in Microsoft Viva Connections:
White-labeling with your organization's name, logo, and colors
A dashboard that keeps actionable tasks and useful resources at your fingertips
A social media-esque feed that shows personalized communications and empowers employees to join conversations from across the organization
Audience targeting so that content can be tailored to be shown to the right audience (which is particularly useful for larger organizations with a lot of employees)
Boosting, which improves the visibility of high-priority content on employees' feeds based on conditions like date or impressions
Can be deployed through the Microsoft Teams administration console without the need to push additional applications to employee devices
Extend the functionality of Viva Connections with purpose-built applications from providers such as Qualtrics, Limeade, Moveworks, Adobe Sign, and more.
As the Microsoft Viva Connections platform matures, more functionality will be added over time. The Viva Connections page via Microsoft has the latest features that are expected to make their way to Connections soon.
2. Microsoft Viva Engage
Engage is an evolution of the well-known Yammer Communities application. For people that already use the Yammer app, the Engage experience will update automatically, but Engage is also built-in to Microsoft Teams.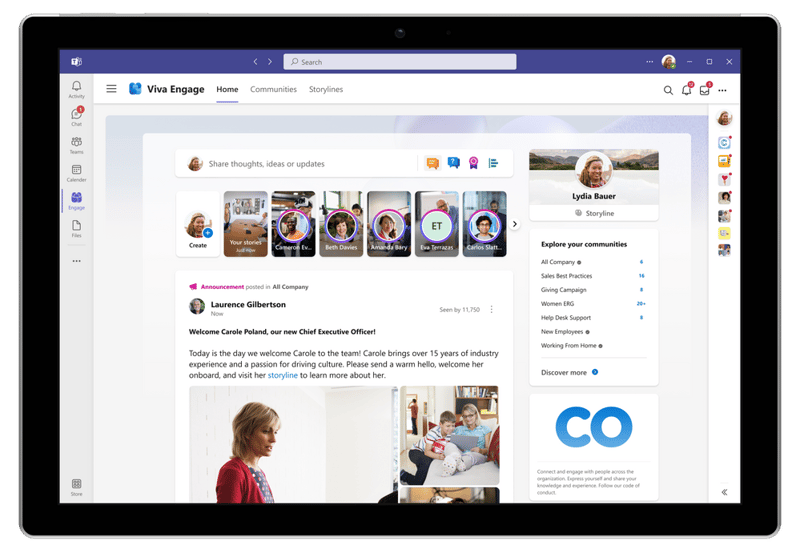 At its core, Engage looks a lot like existing social media platforms that most people are already used to, like Twitter or Facebook. Short video "stories" are front and center on your feed, and the latest relevant posts can be easily scrolled through just like you would on the aforementioned platforms. This is critical because employees will already be familiar with the experience and be able to interact with the platform easily.
The following features are included in Microsoft Viva Engage:
Announcements and notifications keep everyone informed
Stories and storylines (the news feed) show the latest posts and videos from people across the organization
A Q&A section that has crowdsourcing functionality similar to platforms like Reddit or Quora, where people can post questions, upvote replies, and mark which answers are the best
Analytics so management and leaders can track activity and engagement
Conversational functionality, like @mentions and the ability to pin conversations
The ability to host virtual events that include video and Q&A
#topics that can be followed or used to find specific content
3. Microsoft Viva Insights
Insights integrates wellness and productivity into employees' normal workflows, with the aim to help people de-stress, view situations from a more positive perspective, and encourage mindfulness and thoughtfulness throughout the workday.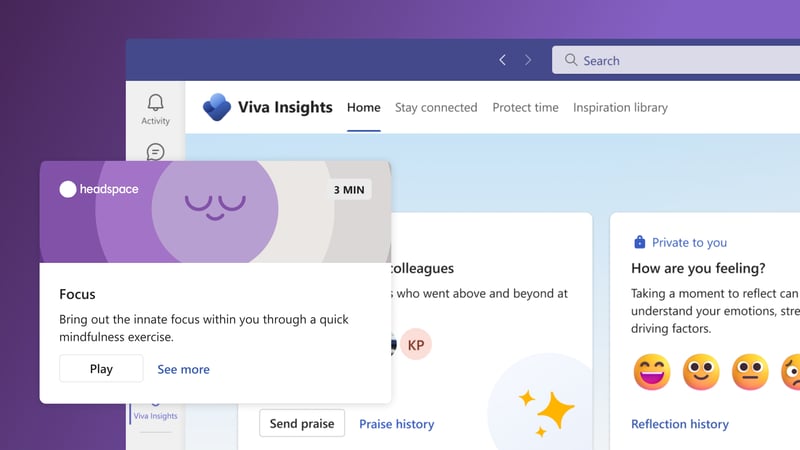 The following features are included in Microsoft Viva Insights:
Personal insights include a combination of well-being experiences within Microsoft Teams, including scheduling uninterrupted focus time for executing important tasks, checking email, or simply taking a break.
In Outlook, Insights provides actionable recommendations to remind employees to take a break, check messages, schedule focus time, or simply get more information about how they've been spending their days at work.
Patterns are another feature that appears in Microsoft Outlook through Insights, giving employees a rundown of how they spent their time at work in a given month.
Manager and leader insights give an overview of what's happening across the organization and help managers and leaders improve project management initiatives to maximize productivity during work hours and reduce things like overtime, not taking breaks, and more.
Advanced insights give more granular information about different aspects of a department or organization, such as how much time is spent in meetings or how far a new hire has gone in the onboarding process.
Built-in privacy and security settings ensure that only the right people have access to the right information and that private and sensitive information is kept safe.
4. Microsoft Viva Goals
Goals helps teams and individuals align to achieve results. By defining priorities and setting out what success looks like, teams and individuals alike can get started with the tasks needed to meet organizational goals.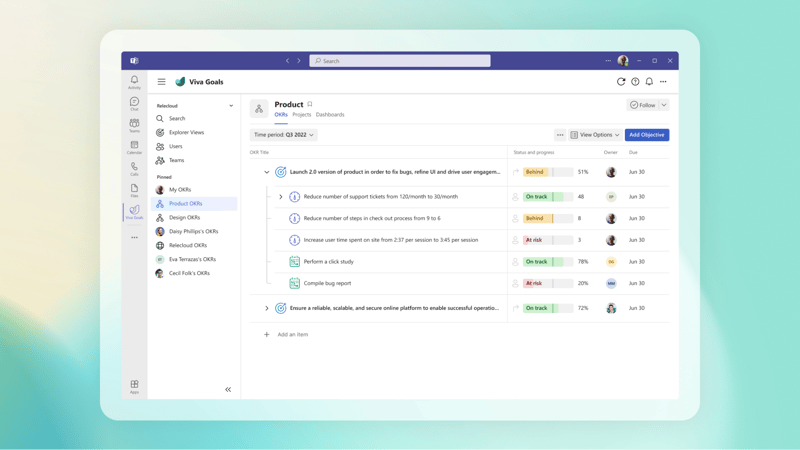 The following features are included in Microsoft Viva Goals:
Connecting work to outcomes with clear, effective goals and measures of success so each employee understands their impact
Keeping everyone focused on their top priorities by connecting with popular project management applications like Asana, Jira, Smartsheet, and more
Integrating with Microsoft programs like Teams and Azure DevOps so employees don't have to switch between multiple applications to understand their work
5. Microsoft Viva Learning
Learning acts like a mini Learning Management System (LMS), bringing together courses, resources, and other content from different platforms together within Teams for easy access without affecting workflow.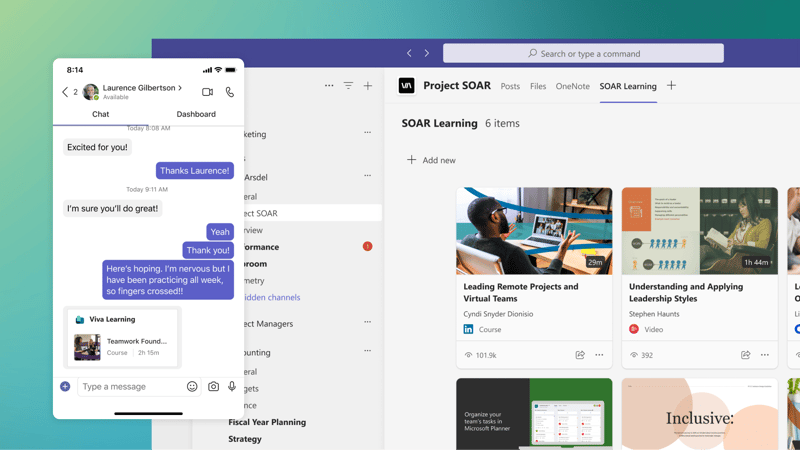 The following features are included in Microsoft Viva Learning:
Integration with Tabs in Microsoft Teams to keep learning associated with a specific team or project in one place
The ability to share learning content in Teams messages, meeting chats, or via email to keep everyone connected and to foster collaboration
Assignments, notifications, and learning prompts, which are all viewable from the My Learning dashboard
The ability to discover new learning opportunities and add content from across your organization to your dashboard
6. Microsoft Viva Topics
Taking advantage of hashtags, Microsoft Viva Topics allows employees to follow and engage with content that is relevant to their work or interests, all within context.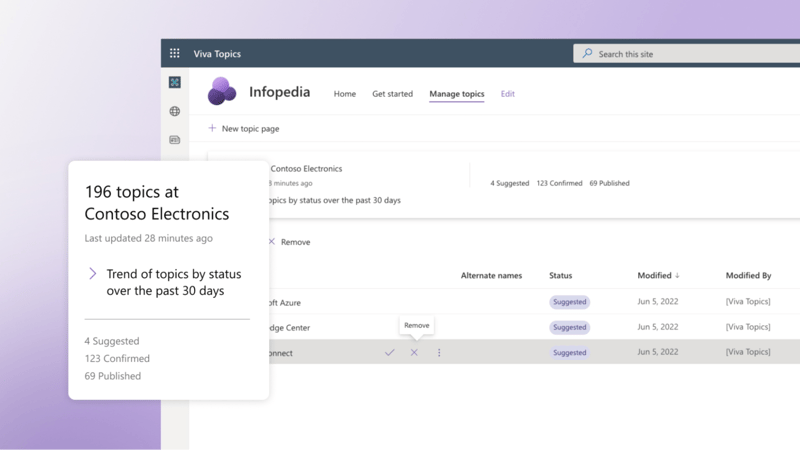 The following features are included in Microsoft Viva Topics:
Topic cards, which provides a brief overview of a topic without leaving the application you're currently working in
Topics pages, which provide more granular information like a full description, acronyms, conversations, related topics, and more
A topic center that shows all your organization's topics in one convenient location
AI-driven content indexing that allows you to index content in the Microsoft Cloud or through external sources
The ability to apply filters and create custom topic pages, as you would do with an internal Wiki
Experts and stakeholders across your organization can revise or edit topics or pin resources as needed
Works seamlessly with Microsoft applications like Teams, Sharepoint, and Outlook
Applies your Microsoft 365 settings for privacy and security to control who can see which topics
It's important to note that while the above describes the current functionality of Microsoft Viva applications, it's clear by visiting the product pages for each of the above applications that more features are in the works.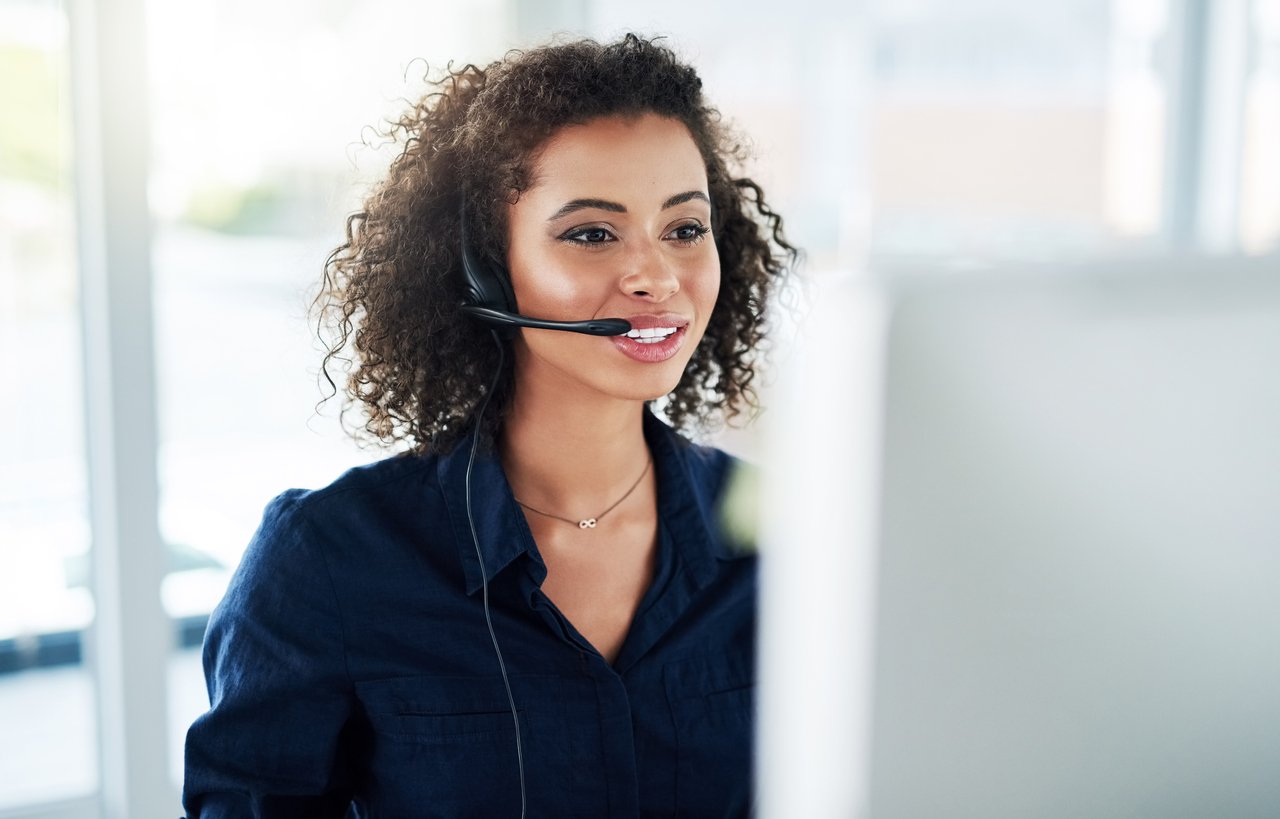 Need Help with Microsoft Licensing?
Leave your Microsoft licensing, security, and software solutions to us so you can concentrate on moving your business forward.
Microsoft Viva Pricing
Microsoft Viva in Microsoft 365 or Office 365 Enterprise

Microsoft Via Suite Subscription Pricing (without 365)

Viva Connections and Viva Engage, two applications in the Viva suite, are already included in enterprise editions of Microsoft 365 and Office 365. The full Microsoft Viva suite add-on includes the rest of the Viva applications (Learning, Insights, Topics, and Goals).
Partial functionality for other Viva applications may be included without an additional Viva subscription

If you purchase a Microsoft Viva Suite subscription before July 1, 2023, you save 25% on the total cost, going down from USD $12.00 to $9.00 per user per month.*
If you purchase a Microsoft Viva Suite subscription alongside Glint (which is a survey and feedback tool) before July 1, 2023, you save 20% on the total cost, going down from USD $15.00 to $12.00 per user per month.*
If organizations prefer, they can purchase subscriptions to individual Microsoft Viva applications as needed. Each application is available for USD $4.00 to $6.00 per user per month, with Viva Sales (a separate application) available for USD $40.00 per month.*
*Pricing as of January 2023
Microsoft Viva Licensing
Microsoft Viva has different licensing requirements depending on the application being used. The table below highlights how the licensing requirements work:
Microsoft Viva Application

Licensing Requirement

Viva Learning

A license is required to:

Access partner content (such as LinkedIn Learning) as well as those LMSs
Recommend content and track completion progress

Viva Insights

Personal Insights (well-being experiences, Outlook recommendations, and insights about your work patterns) are available to Microsoft 365 users without a separate Viva Insights license
Premium personal insights, manager insights, leader insights, and advanced insights require a Viva license (basically any granular analytics functionality requires a license)

Viva Topics

A license is required to use this application

Viva Connections

Full application functionality is available to all Microsoft 365 or Office 365 enterprise plan users

Viva Goals

Customers can use and purchase Viva goals without purchasing any other Microsoft subscription or product
To view Goals within Microsoft Teams, a Microsoft Teams license is required

Viva Engage

Full application functionality is available to all Microsoft 365 or Office 365 enterprise plan users
It's important note that as per the Viva pricing model, organizations have two options:
They can give their employees access to the entire Viva Suite via a Viva Suite subscription for each user.
They can opt to purchase separate user licenses for certain Viva applications only. Viva Engage and Viva Connections are included in existing Microsoft 365 or Office 365 enterprise subscriptions.
FAQ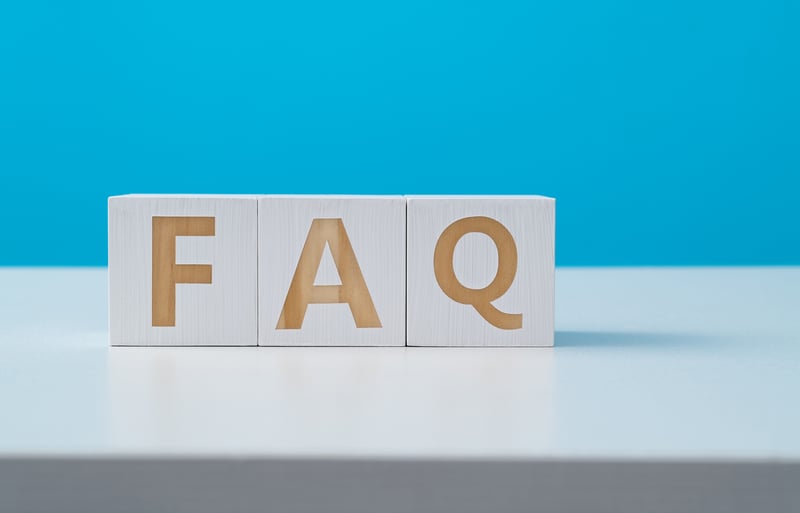 1. What is Microsoft Cortana Vs Viva?
While the Microsoft Viva suite of applications includes a ton of different functionality, one of the standout features is the Viva Insights application. Specifically, its integration with Outlook. Users of Cortana were used to receiving a daily briefing message in Outlook, giving them various brief insights about their past working habits. Instead of Cortana providing this message, it will now be sent by Microsoft Viva Insights. The content will also be expanded with recommendations for upcoming workdays and weeks.
2. Is Microsoft Viva a New Take on Intranet?
If you look at Microsoft Viva as a whole, it seems very similar to Intranet technologies that many organizations know and use daily, but with more social media-like components. In this way, some have referred to Viva as a "new take on the old intranet" in that it adds functionality that you couldn't find in your company's old internal Wiki. By connecting with applications that employees use every day and encouraging knowledge sharing and, at the same time, collaboration and communication, it's easy to see why Microsoft Viva is turning heads as a viable new platform that could replace the traditional Intranet.
3. What Does Microsoft Viva Track?
One of the features of Microsoft Viva Insights is manager and leader insights. These provide information about work patterns so leaders can take action, like identifying when too many after-hours meetings are happening and taking steps to reduce them in an effort to prevent burnout and offer employees a better work-life balance. Rather than Insights being a tool to watch over employees' every move, it's a tool that allows managers to see real data about engagement, efficiency, and productivity so that they can take steps to manage their people better.
Conclusion
Establishing and maintaining connections through community is part of what makes us human. In a hyper-connected online world, we're more connected to each other in some ways but less connected in others. With more and more people working remotely, maintaining that community, that connection, even when people are not physically in the same room, is essential for a positive workplace culture.
The good news is that utilizing technology like Microsoft Viva makes establishing those important connections in the workplace easier than ever before. Plus, the software works seamlessly with the existing Microsoft products your organization already uses and that your employees are already familiar with, meaning that little to no onboarding is required to get started.
Another requirement of using Microsoft Viva is ensuring that your employees have the right access via licensing. Navigating Microsoft licensing optimizations can be difficult and time-consuming for IT teams, especially with the consistent changes. Amaxra can help you choose the right mix of Microsoft licenses so that your organization isn't overpaying for licenses that you don't need.
Contact Amaxra today for a consultation.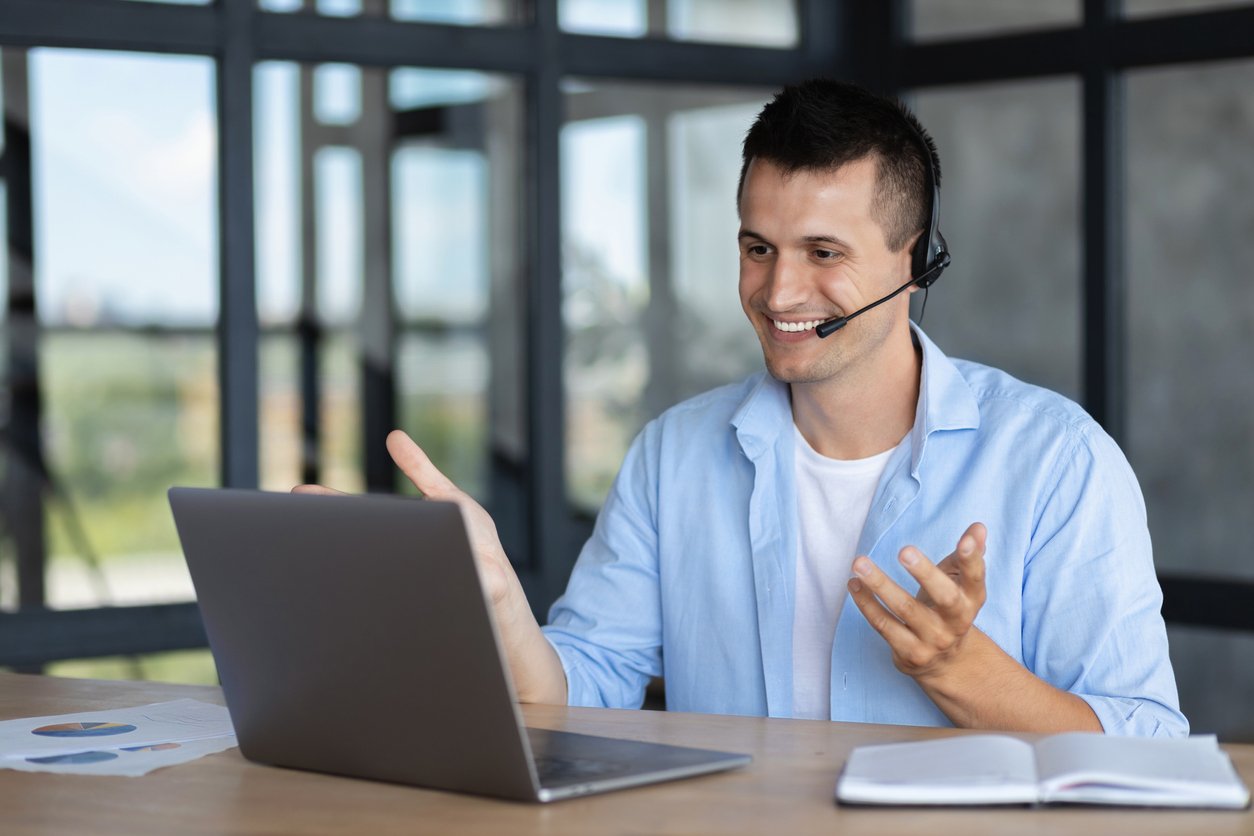 Get Started Today
We'll build a secure and complete Microsoft software solution for your business while you concentrate on what's important.