A Guide to Business Continuity Solutions [Integrations & Top Software]
Business continuity solutions are vital to boost a business's speed-to-action in an emergency.
When disaster strikes, every minute counts. And in times of crisis, your people shouldn't be making critical decisions on the fly - they should have predetermined frameworks ready to deploy, processes to follow, and systems already in play to get operations back on track.
This is where business continuity solutions come in.
Read on to find out what business continuity software entails, how to choose the best continuity software for your company, and what Microsoft and Amaxra can do to help.
What Is Business Continuity Software?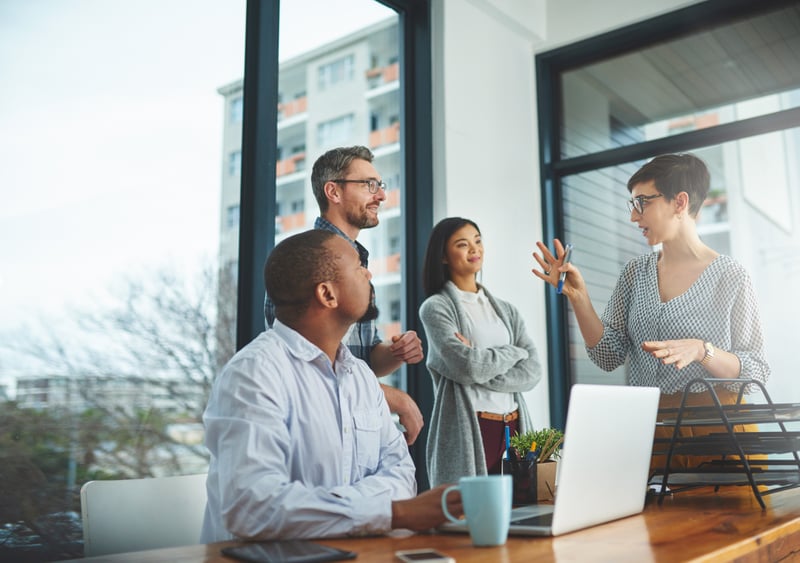 Business continuity software helps companies plan and action their business continuity frameworks so they are resilient against all kinds of company breaches. Usually part of a business's on-premise infrastructure or one of their cloud-based SaaS tools, business continuity and disaster recovery software is an essential part of business planning, regardless of company size and industry.
Many different applications and solutions fall under the umbrella term "business continuity software"- from analytics tools to cloud-based workspaces to malware detection programs.
A business continuity plan is only effective if a business has the tech stack to put protocols into action quickly and efficiently.
Types of Business Continuity Management Software
Though there are many ways to categorize it, there are generally two main types of business continuity management software:
Business continuity applications
Business continuity solutions
Let's examine both.
1. Business Continuity Applications
Business continuity applications are more involved with the planning and management aspects of a business continuity plan (BCP).
During the planning phase, business continuity applications help businesses analyze potential threats, build new processes to mitigate the impact of emergencies and manage the implementation of the BCP to ensure it's communicated and actioned properly.
Examples of business continuity applications include:
Risk assessment or threat modeling tools that help large organizations identify how events such as an outage can affect day-to-day operations
Workflow development tools that enable teams to build new processes that tackle and resolve potential threats
Communication protocols and channels that get important information to teams and customers immediately
In summary, business continuity applications ensure companies have plenty of accurate data to build and improve their BCPs.
2. Business Continuity Solutions
Where applications are more concerned with planning and managing a BCP in crisis mode, business continuity solutions are the systems you have in place all the time.
For example:
Digital workspaces that enable people to continue working remotely from home if it's not safe to go to the office - includes project management systems, video calling software, and file sharing systems
Data backup and recovery software continually saves and stores crucial company data so that it can be recovered in the event of a cyberattack or natural disaster
Cloud-based infrastructure that maintains important company systems and operational tools so regional or global organizations can continue working despite local failures such as natural disasters
Once you've set them up and implemented them throughout your organization, business continuity solutions keep your business resilient against threats or emergencies indefinitely.
Business Continuity Software Integrations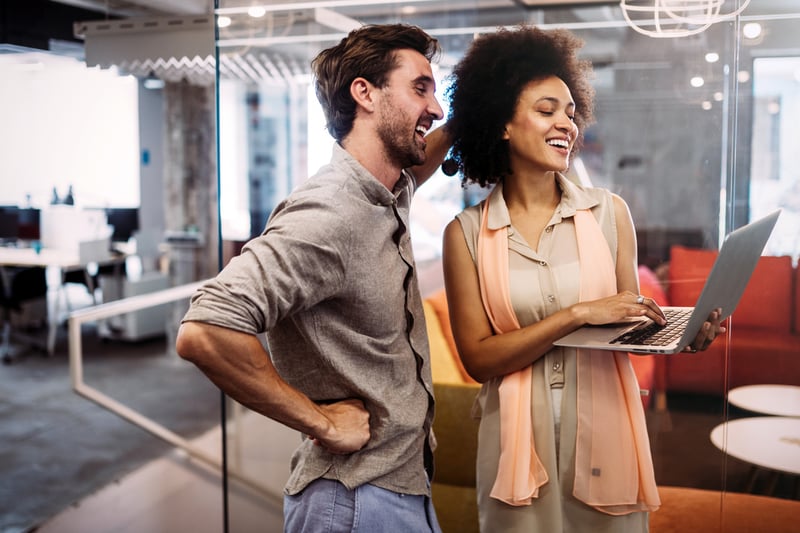 Business continuity software integrations refer to whether the software can work with your day-to-day operational platforms.
Business continuity software is only effective if it fits your current business infrastructure and processes like a glove. If your business continuity software doesn't interact with your systems, those systems become blind spots if there's an emergency.
This means you should think about how that software integrates with your company's:
CRM
File storage system
Project management tools
Data monitoring system
Website and lead generation forms
It makes sense that if you're running your business using Microsoft products, you need to make sure you're looking for business continuity software that integrates with your systems.
How to Select Business Continuity Planning Software
There's a lot to think about when planning your business continuity plan and selecting the software to put it into action across your organization.
We recommend talking to a specialist before making the call, but here are the three most important considerations to bear in mind while you evaluate your options:
1. Alignment with Your Requirements
This sounds obvious, but you'd be surprised how many businesses choose software that's way too comprehensive for what they need.
As businesses catch on to the importance of digital infrastructure and tech budgets increase, US companies waste an average of $247 per desktop on unnecessary software.
So, how do you ensure your business is safe without overcooking it and wasting your budget?
Firstly, consider what would happen to your business in an emergency situation with a cybersecurity risk assessment.
What processes, people, locations, and infrastructure would be affected (and how) if the following situations were to happen:
Natural disaster?
Major cybersecurity breach?
Pandemic?
Theft?
Terrorist attack?
Evaluate the real cost of those scenarios - to your finances, your team's well-being, and in terms of your company's reputation.
Once you've got a handle on that, you can start prioritizing which aspects of business continuity to prioritize.
Most SaaS solutions offer a tiered pricing option that enables businesses to choose the option that suits their needs and their budget.
The obvious benefit to this is that, as your business grows or your needs change, you can scale up and down relatively freely.
Concerned about getting locked into a restricted pricing tier that doesn't have all the features you need?
Be aware that many software vendors offer a customized option for enterprise-level businesses, so you can choose the features and number of seats you need.
2. Software Vendor Pedigree
When you're investing in your business's resilience and security, you want to be absolutely sure that your software can deliver in your time of need.
Going with an impressive new vendor on the market may seem innovative, but without a proven track record, you're taking a big risk.
Instead, focus on legacy, reputation, and proven success.
When evaluating software solutions online, we recommend checking out their case studies page: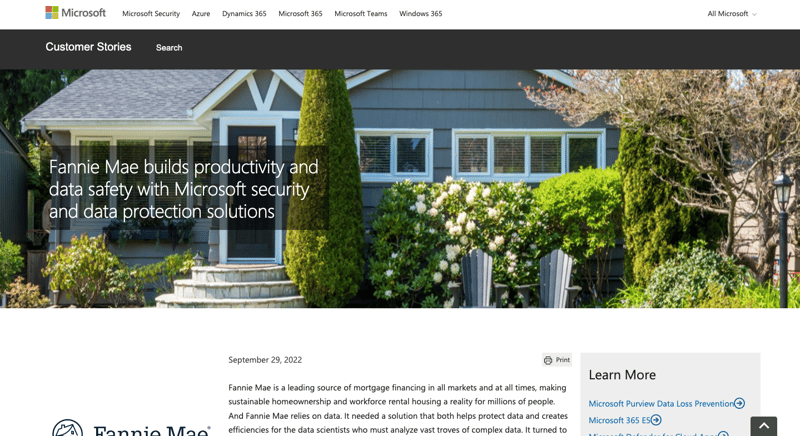 When you see that big brands, or businesses in your lane, have seen success with those same software tools - you'll know you're in safe hands.
3. Coaching and Support
For business continuity software to be effective, you need to implement it across your entire organization and ensure your employees know what it is, why it's important, and how to use it.
Change can be intimidating and challenging to roll out, especially across large companies, so having dedicated coaching from your software vendor can make the process much easier - and more meaningful for everyone involved.
Training even your most junior employees on business continuity software could be the difference between a crisis being a minor hiccup and a major disaster.
The best business continuity software takes care of your business 24/7. But, unfortunately, going for the best in the business doesn't always guarantee you'll get VIP treatment when you have a question or run into a problem.
Every reputable software vendor will offer a web page or number for a support team. Still, you can't guarantee that you'll receive a personalized service - or even a human being on the other end!
That's why it's often helpful to work with a licensed third-party tech support service like Amaxra. With us on hand, companies access the full muscle of Microsoft's business continuity tech stack - with the dedicated service of local experts who can help anytime.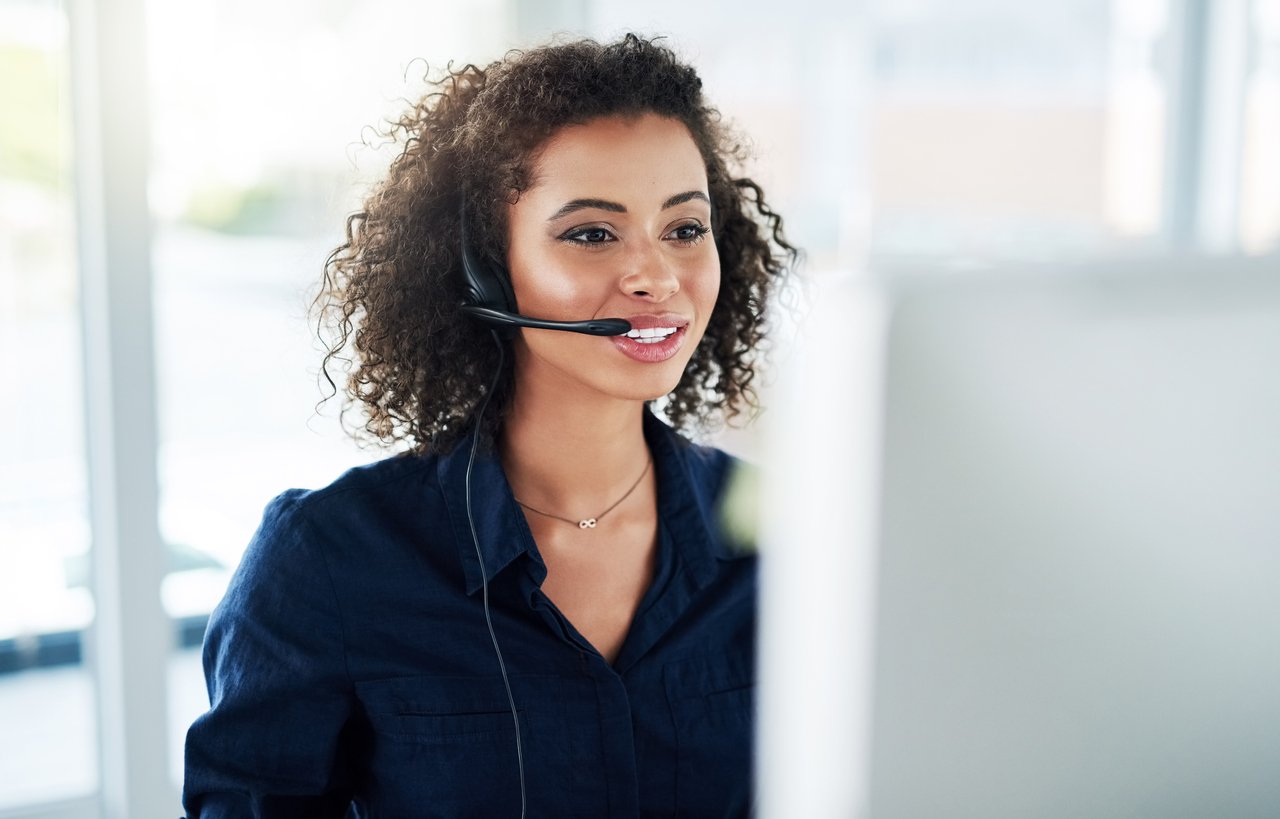 Need Help with Microsoft Licensing?
Leave your Microsoft licensing, security, and software solutions to us so you can concentrate on moving your business forward.
Best Business Continuity Software From Microsoft
Let's walk through the business continuity capabilities of Microsoft products and how to use them to keep your business protected and resilient against threats.
Microsoft Defender for Office 365
Microsoft Defender for Office 365 analyzes your entire network, looking for phishing emails, alerting you when there is a breach, and preventing the threat from compromising the rest of your network.
Almost all phishing attacks happen via email. Your business undoubtedly relies on email communication, so having an email phishing tool is a crucial part of your business continuity solution.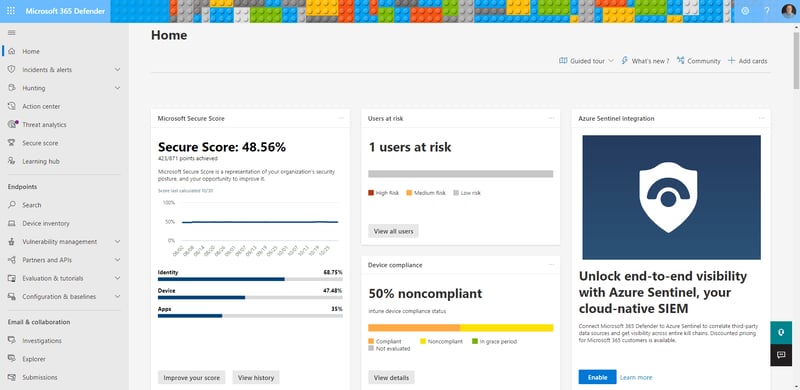 It's a fantastic solution for business continuity as it provides five crucial threat protection features:
Safe attachments scan every email on your server for potential threats
URL scanning warns employees before they click on malicious links
Anti-phishing spot instances of emails impersonating someone within your organization
Spoof identification minimizes security threats from spoofing emails
Integrations protect you from phishing from within SharePoint, OneDrive, and Microsoft Teams
With the increasing risk of phishing and instances of ransomware attacks, Windows Defender is an essential part of your business continuity plan.
Microsoft 365
Microsoft 365 has been developed with business resilience and continuity in mind for its customers.
We've detailed some key business continuity software for comparison below, along with how they help businesses action their business continuity plans.
The main focus for these solutions is data back-ups and data mobility across devices, protecting your business from localized damage to infrastructure and making it easy for employees to work remotely.
| | |
| --- | --- |
| Solutions | How they work for business continuity |
| OneDrive | If OneDrive files are removed, corrupted, or affected by malware, they can be restored to a previous session that's backed up on OneDrive - this saves all data. |
| OneDrive for Business | Cross-region user data resilience means that all authenticated workspaces can share data, minimizing the impact of localized threats. |
| OneDrive Known Folder Move | Employees can synchronize files and folders, making migration to new systems quick, easy, and accurate. |
| Windows Sync Your Settings | If one device is stolen, damaged, or compromised, owners still have their system and preferences stored on another device. |
| | Thanks to a unified user experience across company devices, it's easy to set up new devices, and precious company data can only be deleted with admin permission. |
Business Continuity Software with Amaxra
As a qualified and specialized Microsoft partner, Amaxra helps businesses navigate the complexities of Microsoft licensing optimization, team augmentation, and so much more.
We're passionate about helping SMBs be prepared for any and all eventualities, creating business continuity plans that ensure resilience, preparedness, and, ultimately, higher quality service to customers.
One of the ways we do this is by providing additional backup services to our customers if the first line of storage is compromised.
We use two of the best Microsoft backup solutions to protect our customers:
Dropsuite - a cloud-based backup and monitoring solution focused on protecting your Microsoft 365 data
Acronis - a solution for backing up business data on all platforms and storing it in secure, remote data centers
Frequent backups = more safety.
And when 45% of backup failures are caused by hardware, it's essential that you have an expert in your corner to make sure that your backed-up files are secure.
Business Continuity Solutions FAQs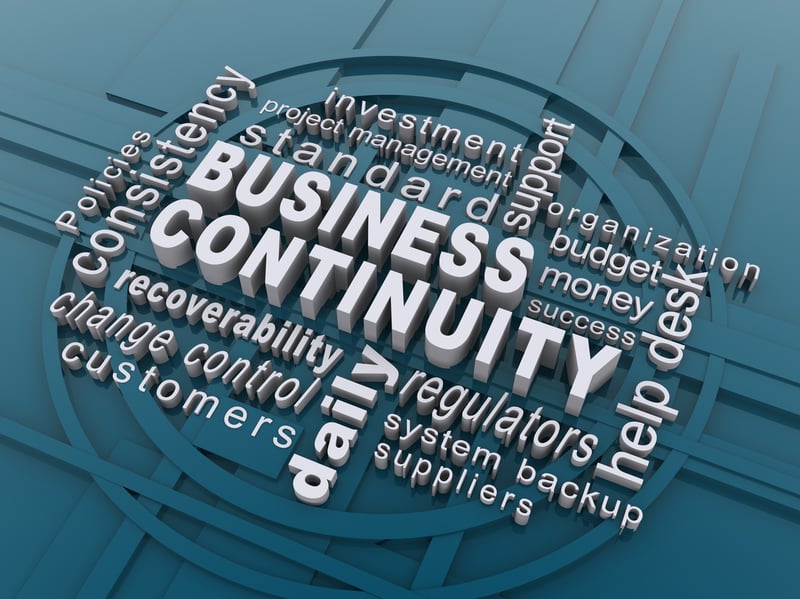 "What Is a Business Continuity Solution?"
A business continuity solution is a software tool that helps a business create, improve, and action its business continuity plan. Usually, a solution is a high-level process used daily, regardless of whether there is an emergency. For example, working remotely using Microsoft Teams ensures that business operations can continue regardless of future coronavirus outbreaks.
"What Are Business Continuity Metrics?"
Business continuity metrics are the measures used for evaluating the effectiveness of your business continuity solutions.
Some important metrics include:
Recovery time objectives (RTOs)
Recovery point objectives (RPOs)
Number of businesses processes threatened by potential disasters
The time it takes for you to recover business processes
The delta between your target recovery time and your actual recovery time
"What Are the 5 steps of a Business Continuity Plan?"
The five steps of a business continuity plan are:
| | |
| --- | --- |
| # | Steps |
| 1 | Initiation |
| 2 | Business impact analysis (BIA) |
| 3 | Develop recovery strategies |
| 4 | Implementation |
| 5 | Test and monitor |
Conclusion: Invest in Business Continuity Solutions
The most resilient businesses are the ones that return to business-as-usual almost immediately following an emergency.
With that in mind, you should be using business continuity tools daily - from regular back-ups to virtual workspaces to malware detection software.
Microsoft's programs have been carefully designed with business continuity in mind and are constantly refined to help businesses around the world minimize risk and be prepared for the unexpected.
If you have more questions about business continuity or if you'd like to discuss implementing Microsoft backup solutions, please reach out to our team, and one of our friendly experts will be happy to help!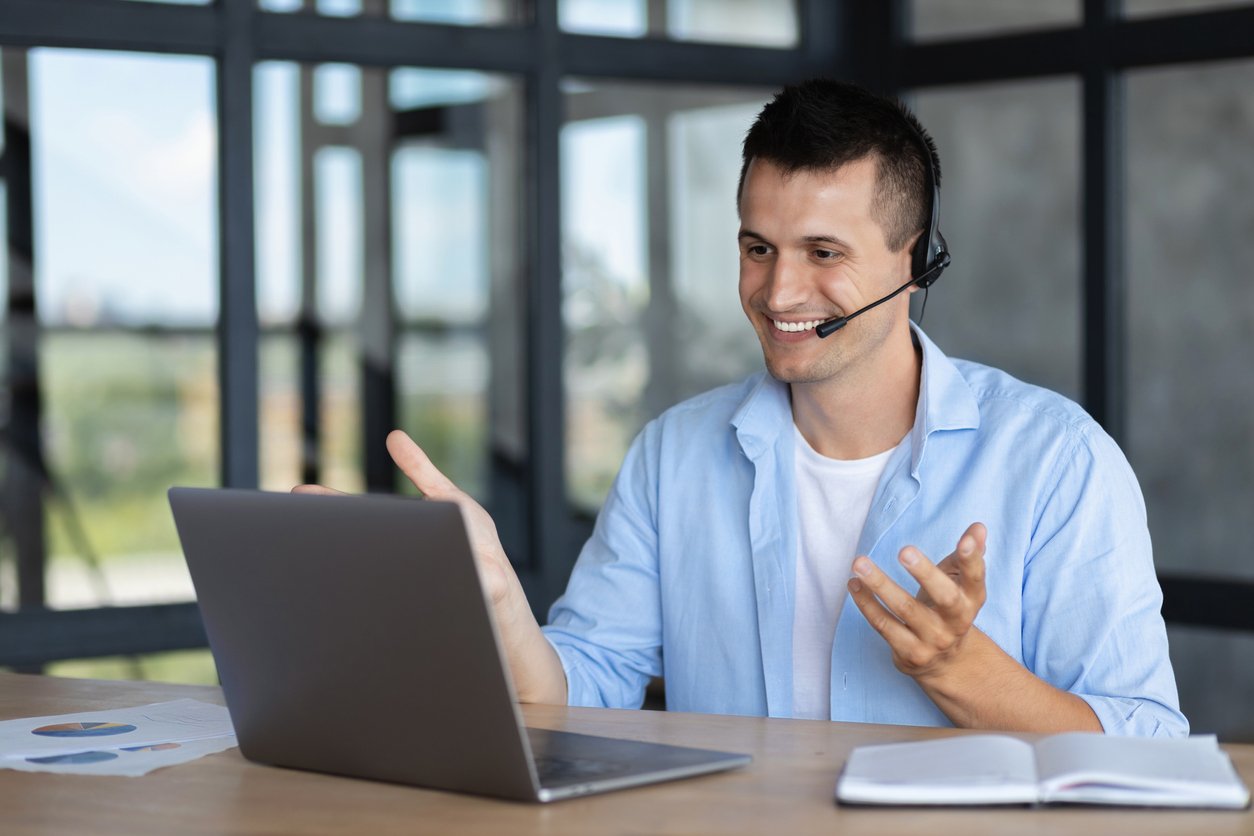 Get Started Today
We'll build a secure and complete Microsoft software solution for your business while you concentrate on what's important.